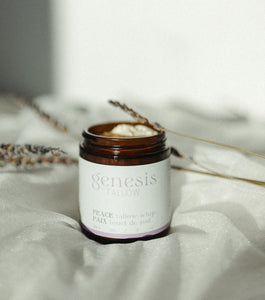 Cultivate a heavenly aroma with Peace Tallow Whip. It is handcrafted with only the best quality grass fed/finished beef tallow and whipped into a spreadable mousse for a smooth and velvety application. This unique frothing method ensures your skin absorbs your tallow more quick and evenly.
Lavender and Bergamot essential oils clear the mind and calm the body.

Scent Profile: calming, floating down fields of lavender
Size: 3oz
To Use: Apply a pea sized amount to your finger tip. Massage into your hands and apply to desired area. Keep in mind that a little bit goes a long way! You will feel the tallow balm instantly melt into your skin. Store in a room temp or cool room. Tallow is an oil product and will melt if heated. If it liquifies no worries! Just pop it in the fridge and it will be good as new.
Ingredients: Grass Fed/Finished Beef Tallow (no hormones or antibiotics), Extra Virgin Olive Oil, Therapeutic Grade Essential Oils (Lavender, Bergamot).
dreamy tallow
love using this tallow on my skin before bedtime!
Flawless.
Genesis tallow is now how I start & end my day. My skin has never looked or felt better.
Simply amazing!
I picked up a small jar at the Mom Market just to try it. This product is amazing! I put it on every night before bed and also before I apply my makeup in the morning. It makes my makeup look so smooth and Flawless. My skin is glowing and it's not greasy at all. I'm buying a big jar and going forward THIS is my skin routine! So simple but beautiful!