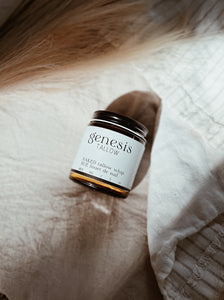 Naked Tallow Whip is handcrafted with only the best quality grass fed/finished beef tallow and whipped into a spreadable mousse for easy application. Unscented, pure, and well I guess you could say.. NAKED! Perfect for ultra sensitive skin.
Scent Profile: no essential oils, pure, earthy.
Size: 3oz
To Use: Apply a pea sized amount to your finger tip. Massage into your hands and apply to desired area. Keep in mind that a little bit goes a long way! You will feel the tallow balm instantly melt into your skin. Store in a room temp or cool room. Tallow is an oil product and will melt if heated. If it liquifies no worries! Just pop it in the fridge and it will be good as new.
Ingredients: Grass Fed/Finished Beef Tallow (no hormones or antibiotics), Extra Virgin Olive Oil.
Love it!
I had some problems with shipping, but once it finally arrived I was really pleased. This is a VERY thick moisturizer. It does leave a bit of a greasy film on my skin, but I think that means its working. My skin looks plush and healthy!
VERY impressed so far!
I am an adult-acne prone product junkie and was influenced to get my hands on some tallow from some ~natural~ gals on tiktok. Honestly I was not convinced that this wouldn't destroy my skin but took a chance. Granted it's only been a week but my boyfriend keeps saying I'm glowing, my skin texture is amazing, and it seems to be helping my chronically dry lips too. I'm sold and want to throw away all my bougie sephora moisturizers!
This is the only moisturizer my skin likes! I usually get red and rashy from all moisturizers and skin products (no matter how natural they may be). This moisturizer keeps my skin soft and rash-free! Thank you for creating the naked tallow whip!
Holy Grail Product
Wow! The texture of this is amazing! I'm gonna need a bigger size…can we do that, please? I use this as a lotion and it's been so healing for my sensitive, dry skin. It will be perfect during the fall and winter months. This is my absolute favorite product :) wish I could order it via a subscription because I use it so often. It's the best nontoxic moisturizer I've used. Hands down!