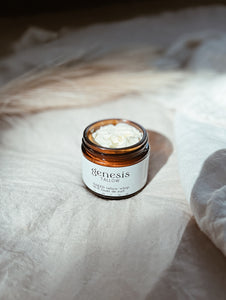 Naked Tallow Whip is handcrafted with only the best quality grass fed/finished beef tallow and whipped into a spreadable mousse for easy application. Unscented, pure, and well I guess you could say.. NAKED! Perfect for ultra sensitive skin.
Scent Profile: no essential oils, pure, earthy.
Size: 1.5oz
To Use: Apply a pea sized amount to your finger tip. Massage into your hands and apply to desired area. Keep in mind that a little bit goes a long way! You will feel the tallow balm instantly melt into your skin. Store in a room temp or cool room. Tallow is an oil product and will melt if heated. If it liquifies no worries! Just pop it in the fridge and it will be good as new.
Ingredients: Grass Fed/Finished Beef Tallow (no hormones or antibiotics), Extra Virgin Olive Oil.
Leaves skin feeling super soft
Product description is very accurate a little bit goes a long way. Leaves skin feeling super soft and moisturized. My skin has been in rough shape this summer and it was nice to put on a product that didn't hurt and also helped heal it. Looking forward to trying one of the scented ones next time I order. Very pleased with purchase, great packaging, great service.
Beautiful soft skin
It leaves the skin so soft!
Beautifully packaged and great results.
My skin can be oily so sometimes it is a little too much for me to use it every day, but I alternate it or use it when I want more hydration and it's great.
It will be very good to save my skin during the winter!
LOVE this so much! It's been drastically healing my eczema more than any other product I've used (quickly too!) I also use it on my face and it's been the best moisturizer. Love that it's nontoxic and natural.
This product was in a very well made glass jar. The texture and ingredients are super! I have been putting on my face every night..... I couldn't believe the difference in my skin! I heard about the product on a skin podcast. I immediately took the chance and ordered. I love this product !!!!!! Thank You, Marjorie .