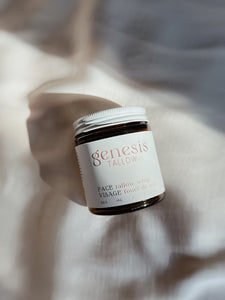 Tallow Face Whip takes the spotlight in our face skincare line. Unlike the rest of our whips, this balm is uniquely made with hemp seed oil that scores one of the best ratings on the noncomedogenic list. Packed with vitamin C, E and essential fatty acids. Frankincense oil to help blemishes, prevent wrinkles, and lift/tighten skin. Vetiver oil to promote skin cell regeneration and boosting the growth of new cells
Scent Profile: soft, balsamic sweet frankincense fluff
Size: 3oz
To Use: Apply a pea sized amount to your finger tip. Massage into your hands and apply to desired area. Keep in mind that a little bit goes a long way! You will feel the tallow balm instantly melt into your skin. Store in a room temp or cool room. Tallow is an oil product and will melt if heated. If it liquifies no worries! Just pop it in the fridge and it will be good as new.
Ingredients: Grass Fed/Finished Beef Tallow (no hormones or antibiotics), Hemp Seed Oil, Therapeutic Grade Essential Oils (Frankincense, Vetiver).
I never received my order….
Worth it!
It absorbs so well into my skin and does not leave it feeling sticky or greasy. It is not abrasive on my skin whatsoever as it is only tallow. I let my mom have some for her hands and she immediately loved it! I will be repurchasing for both my mother and I!
I love this face tallow, it's all I use on my face and it makes my skin glow! It feels soft and moisturised. I love that it's has clean ingredients and is safe for my skin with no yucky chemicals! Definitely recommend!!! I'll be a repeat customer for life <3 So happy I found this product!
Truly an essential
So, you absolutely can not go wrong with any of these products but the face whip is the product that got my husband HOOKED! Now he's asking me if i've put on my tallow! We've switched over to tallow for all our skin needs! I am 32 and my face is even better than when i was pregnant at 26 and i NEVER thought I would see that much elasticity again! WE ARE SUCH GENESIS TALLOW STANS!!!
Love this
Really like this! I've used it on my baby's bum as well and not sure if it's doing much other than moisturizing but still love using it!