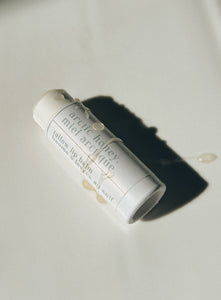 Not only will this Tallow lip balm nourish your dry lips it will ALSO heal the root issue of the dryness.
Most lip balms are made with toxic ingredients like fragrance and petroleum that can actually damage your lips. They simply "feel" good but are not actually getting to the core of why your lips are dry in the first place!
Tallow Lip balm hydrates and protects dry, cracked, blistered, and sun damaged lips.
Size: 8.5ml
Ingredients: Grass Fed/Finished Tallow, Coconut Oil, Beeswax, Honey, Therapeutic Grade Essential Oils (Peppermint, Wintergreen)
New fave!!
This lip balm is wonderful! Glides on beautifully, and is very moisturizing. Smells great, too! :)
Best lip balm ever!!
I use this lip balm everyday! This is the best lip balm I have ever had :) Will definatley be ordering for friends and family.
Love this lip balm!
This is a great product! Goes on so smoothly and is very moisturizing. Love the tingling sensation from the mint. Will definitely buy again!
Pleasant product
Scent wise, beautiful! The peppermint and wintergreen gives the lips a light tickle which i enjoy. It feels and smells fresh.
I use it at night before bed to keep my lips moisturized over night...the sizing of the product is generous for a lip balm and I enjoy that its also far more environmentally friendly than a plastic jar or stick. I recommend, 2 thumbs up
10/10
This lip balm is sooo nourishing and glides on like velvet.