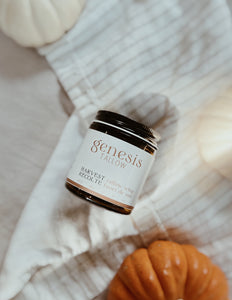 Warm your soul with this seasonal Harvest Tallow Whip. This autumnal scent is perfect for all the sweater weather, cozied up vibes!
Scent Profile: Think Chai latte, Pumpkin Spice and snickerdoodle cookies!
Size: 3oz
To Use: Apply a pea sized amount to your finger tip. Massage into your hands and apply to desired area. Keep in mind that a little bit goes a long way! You will feel the tallow balm instantly melt into your skin. Store in a room temp or cool room. Tallow is an oil product and will melt if heated. If it liquifies no worries! Just pop it in the fridge and it will be good as new.
Ingredients: Grass Fed/Finished Beef Tallow (no hormones or antibiotics), Organic Extra Virgin Olive Oil. Therapeutic Grade Essential Oils (Orange, Cardamom, Clove, Vanilla, Cinnamon)
I love it!
I loooove it!! it smells so good
Smells so good!
I love all of Genesis Tallows products but this harvest tallow is my favourite! It smells like fall and my skin feels so soft afterwards!
Perfect for fall
This tallow whip is the perfect one for getting into the autumn spirit. It's warming fall spice scent profile makes you want to grab your Jean jacket and head to the pumpkin patch.
Absolutely love!
This is the first tallow product I have tried and I am hooked. It goes on smooth and soft and doesn't leave my skin greasy! The harvest scent is light and not overpowering which I prefer! Will definitely be buying again!