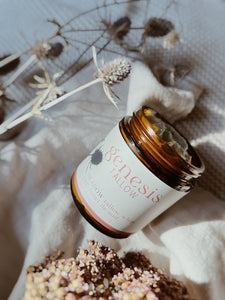 Start your day with this floral blooming balm. Blue Tansy gives it a meadow green tint. Vibrant orange essential oil blended with ylang ylang and balancing patchouli. Like a bouquet of healing flowers.
Scent Profile: bohemian bubble gum. breathe of floral fresh air
Size: 3oz
To Use: Apply a pea sized amount to your finger tip. Massage into your hands and apply to desired area. Keep in mind that a little bit goes a long way! You will feel the tallow balm instantly melt into your skin. Store in a room temp or cool room. Tallow is an oil product and will melt if heated. If it liquifies no worries! Just pop it in the fridge and it will be good as new.
Ingredients: Grass Fed/Finished Beef Tallow (no hormones or antibiotics), Organic Extra Virgin Olive Oil, Therapeutic Grade Essential Oils (Orange, Ylang Ylang, Patchouli, Blue Tansy).
Best!!
I have been using this tallow for a few months now and no more dry skin or cracked heels. You don't need a lot, it's absorbs nicely and keeps your skin feeling soft. The smell is also a favorite! So good!
Really enjoying the scent of meadow and always love the product!
WOW!!!
Started using the Harvest Tallow whip about 2 weeks ago now and HOLY COW! My skin is literally glowing! Scars are fading and skin feels amazing all hours of the day!!! 11/10 recommend!
I absolutely love the scent of meadow and overall I love this product for my skin! I put it on my face, neck, legs EVERYWHERE! A little does go along way especially on your face! It's so nourishing and healing! I am obsessed!
Amazing!
It smells so good and feels like silk on my face. I love it!