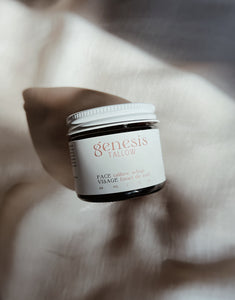 Tallow Face Whip takes the spotlight in our face skincare line. Unlike the rest of our whips, this balm is uniquely made with hemp seed oil that scores one of the best ratings on the noncomedogenic list. Packed with vitamin C, E and essential fatty acids. Frankincense oil to help blemishes, prevent wrinkles, and lift/tighten skin. Vetiver oil to promote skin cell regeneration and boosting the growth of new cells
Scent Profile: soft, balsamic sweet frankincense fluff
Size: 1.5oz
To Use: Apply a pea sized amount to your finger tip. Massage into your hands and apply to desired area. Keep in mind that a little bit goes a long way! You will feel the tallow balm instantly melt into your skin. Store in a room temp or cool room. Tallow is an oil product and will melt if heated. If it liquifies no worries! Just pop it in the fridge and it will be good as new.
Ingredients: Grass Fed/Finished Beef Tallow (no hormones or antibiotics), Hemp Seed Oil, Therapeutic Grade Essential Oils (Frankincense, Vetiver).
Helping heal my hand after a burn
It's amazing for acne prone skin and my skin has never felt better or looked better. It's also the only product that's actually worked and helped my skin!
Great Product!
So far it's great! I've started to see improvement on my skin, and it's only been 2 weeks. The smell is a little weird to me, smells like Smokey herbs, but other than that I love it!
So glad I found tallow
This face whip is so dreamy, I love how it is rich but soaks in to my skin really well. No breakouts, no greasiness. It's magic
Delectable.
I have tried to make my own tallow lotion before…with absolutely no success. It is rich and so delightful. I do wish that the face lotion had less of a smell as I don't like to use fragrance on my face, but I understand why she uses it. No one wants to smell like beef…